Don't overlook the frozen food aisle! Here we discuss some frequently asked questions to help you understand the frozen advantage.
Fruits and vegetables are frozen almost immediately after harvest, locking in key nutrients and preventing spoilage during storage and transportation. According to research from the University of California-Davis and the University of Georgia, the nutritional value of frozen fruits and vegetables is equal to — and in some cases better than — fresh-stored produce.
Freezing is a Natural Form of Preservation
Freezing is the most ancient form of preservation and modern-day freezing technology allows you to enjoy every type of frozen food. When food is frozen, water is converted to ice which reduces the reactions that spoil food.
Nearly 40% of all food in the United States goes uneaten, reaching a value of $444 billion. Thankfully, Americans turn to the freezer for a food waste solution. Frozen foods minimize the amount of spoiled food we throw away because frozen fruits, vegetables and prepared meals can be used when needed, portioned accordingly and/or stored for later use.
In a 2022 study conducted by AFFI, consumers reported that frozen food helps them reduce their waste and save money, and that having frozen meal ingredients on hand helps to have more food in the house without risk of spoilage.
Stretch Your Food Dollar with Frozen
Frozen food is delicious, nutritious and helps families meet their food and nutrition goals while ensuring they spend less over time.
Frozen foods are often lower in cost-per-serving and have a longer shelf-life than refrigerated or fresh foods. Additionally, results from menu modeling show that realistic, balanced and affordable menus featuring mostly frozen foods can meet energy, nutrient and cost goals based on recommendations from the Dietary Guidelines for Americans, MyPlate and USDA's Moderate Cost Food Plan.
Choices for Health-Conscious Consumers
Today's shoppers can find plenty of nutritionally balanced — and portion controlled — meals in the frozen food aisle. Frozen and fresh ingredients can be combined in the same meal, such as including some quick-steam frozen vegetables alongside a freshly prepared entrée. In fact, a recent study showed 72% of consumers mix and match frozen foods with fresh ingredients.
Today's frozen food aisle offers new, innovative entrée and side dish options that meet consumers' evolving needs and demands for more whole grains, high protein and plant-based protein, low sodium, low fat, portion-controlled and other healthier options.
Are Frozen Foods Ready-to-Eat?
It's important to follow preparation and cooking instructions on frozen foods for the best quality and safety. For example, while frozen fruits are ready-to-eat and don't bear cooking instructions, frozen vegetables need to be cooked according to package cooking instructions.
How Long Can Frozen Food Be Kept in the Freezer?
According to FoodSafety.gov, frozen foods stored continuously at 0 °F or below can be kept indefinitely. However, this does not account for quality. For quality, refer to this cold food storage chart for the recommended amount of time to store your frozen food.
A Look Inside the Process of Freezing
Farm to Freezer: The Frozen Food Economy
How Freezing is Nature's Pause Button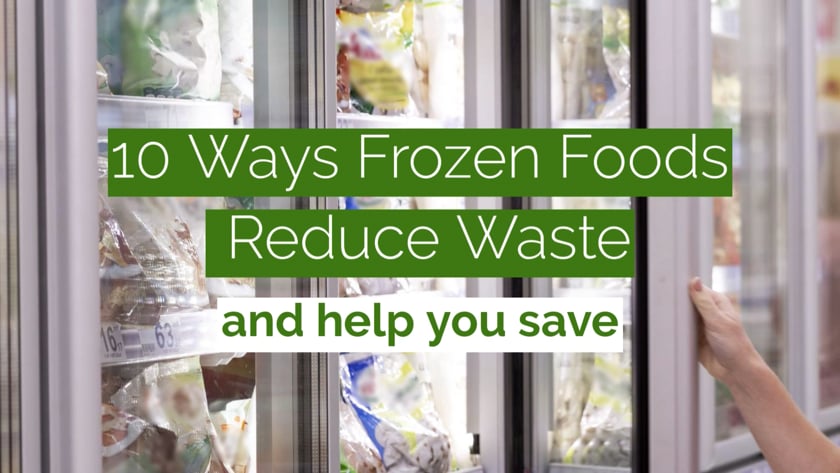 10 Ways Frozen Foods Reduce Waste
A Look Inside the Process of Freezing
Farm to Freezer: The Frozen Food Economy
How Freezing is Nature's Pause Button